If you've always dreamt about packing up your belongings and starting a new life in Spain 2019 could be your year. In this article we look at look at 15 reasons why you should move to Spain in 2019.
With an estimated 381,025 expats calling Spain home, this stunning Mediterranean country on the Iberian peninsula still ranks top for Brits moving to Europe. It ranks fourth among worldwide British expat destinations, behind only Australia, New Zealand and the USA.
Britain's impending departure from the EU has done little to buck the trend of Brits looking to move to Spain.
In fact, 'Spain continues to be the most desirable location for the three-quarters of a million Brits living in the EU', according to Jay Lindop, deputy director at the Office for National Statistics.
But why does Spain continue to lure in British expats each year? We look at 15 reasons why Spain is a great place to live and why you should pack up your bags and move there today:
Cheaper Cost of Living
The cheaper cost of living continues to be a major draw for Brits looking to move to Spain. The general cost of living in Spain is 18.2% less than the UK. Current figures show:
The cost of goods and services is 20% lower
Rent prices are 24% lower
The cost of eating out is 34% lower and the average supermarket shop 18% lower
Moving to Spain could save you a lot of money. Freeing up additional funds to eb used doing the things you enjoy doing, like family day outs or pursuing personal hobbies.
Great Opportunities for Self-Starters
Always dreamt of setting up your own business? Well Spain is the perfect place to do so.
Whether you're a burgeoning chef looking to open your own restaurant or an artisan's crafter there are a wealth of opportunities for expats here.
Digital nomads have also been quick to make use of the freedom and flexibility that comes with no fixed location. Work on the beach with a cheeky cocktail? Yes please!
Incredible Real Estate Opportunities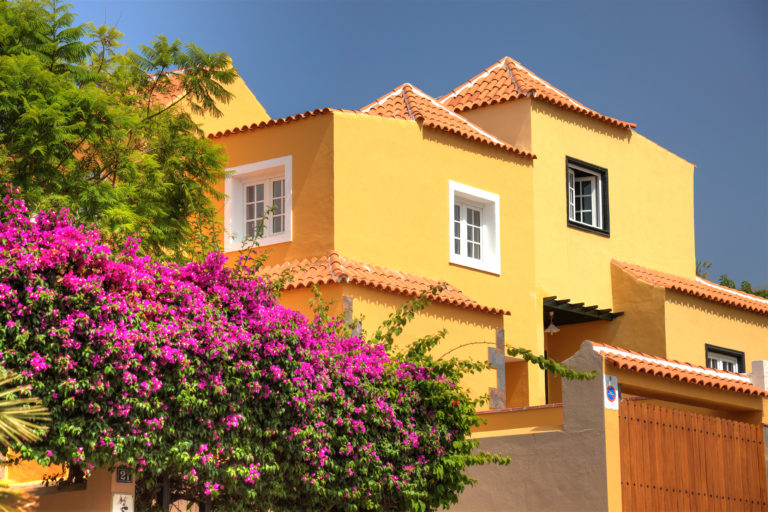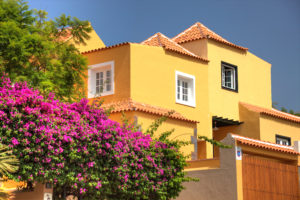 Those looking to move to Spain will find the system is very encouraging of foreign investment with tons of construction going on and low interest rates.
Strong economic growth led to the purchase of 465,000 properties in 2017 – a 15% increase on the previous year.
Low cost destinations such as Costa Blanca and Lanzarote continue to reel in Brits looking for seasonal properties or retirement villas.
Climate
It goes without saying that Spanish weather trumps the British. Spain enjoys a mixture of Mediterranean and oceanic climates with scorching summer highs and mild winter temperatures.
Its diverse landscape means temperatures range from the chilling cold of the snow-peaked Pyrenees and the Sierra Nevada to the sun-drenched deserts of the high central plain and Almeria.
Beaches
Spain has the most blue flag-beaches of any nation in the world, a status it has held for over 30 years!
We've all seen photos of crowded beaches in tourist destinations like Benidorm but Spain is chock-full of hidden gems when it comes to beaches.
There's nothing quite like the warm relaxing sound of the waves splashing against the rocks. Head to La Concha beach in San Sebastian or Playa de Ses Illetes in Formentera on the Balearic Island for an other-worldly experience.
Spanish Culture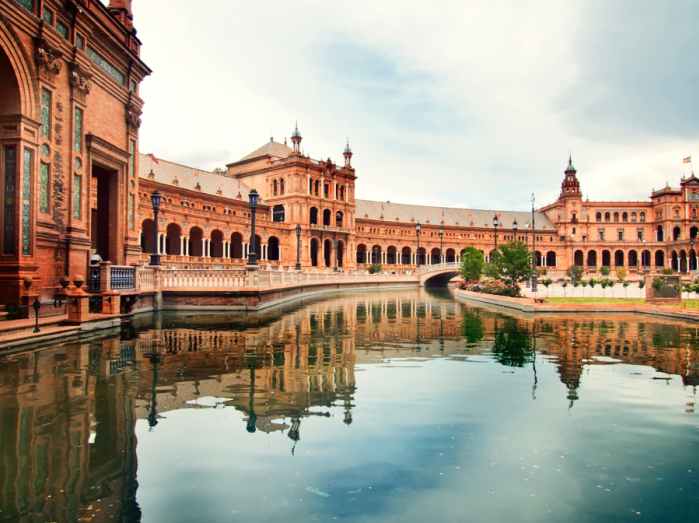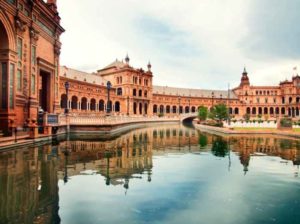 There's more to life in Spain than just the beaches and parasols. Those expats who immerse themselves in the culture from the get-go report some of the highest satisfaction levels.
Whether you're walking the Santiago de Compostelo, Spain's famous pilgrimage trail, or checking out the stunning architecture of the Guggenheim museum in Bilbao, there is tons to see and do in Spain.
Community
Spaniards place a strong emphasis on family time and boast some of the highest rankings for expat social life.
In an Expat explorer survey conducted by HSBC, almost 60% of expats with children say the move has brought them closer together and around 50% say the same about their partner.
Big Expat Community
Because there are so many Brits and other Europeans already living in Spain, there is a massive expat community. They can offer help and advice on anything from locating places to rent to finding schools places. They can even help you to find ways to watch Sky TV in Spain and stay in touch with all things happening back home.
This community helps make moving to Spain and adjusting to life here that bit more easier. And if you get homesick or wish to visit friends and families back home its only a short flight away.
Enjoying this article? Why not read our blog post on How to Choose the Best Removals Company?
Great Opportunities for Kids
The stereotype of the British expat is often that of an old retiring couple. However, a lot of families move to Spain because it is such a great place to raise kids. The emphasis on an outdoors lifestyle with lots of sports and exercise is a major draw for many.
There are also lots of schools which offer education in the expat child's home country curriculum. See the National Association of British Schools in Spain which encompasses 74 schools across the country.
Laidback Lifestyle
The Spanish phrase 'Que sera sera' and the tradition of the Siesta often spring to mind when thinking about moving to Spain.
Spain places a strong emphasis on a laidback approach to life and its citizens value their downtime. Whether its spending time with the family at the beach or pursuing your own hobbies and interests, its not hard to see why so many Brits retiree to its sandy shores.
Foodies Paradise
The Spanish Mediterranean diet which consists of seasonally produced veggies and fish is the envy of the world.
The sharing culture of tapas is a social affair which invites people to share and enjoy the best of Spanish cuisine.
There's also good evidence to suggest the Spanish diet, which is packed full of healthy oils will help you to fend off disease and live longer.
Social Life
Spain has long running traditions and cultures which welcome expat participation. They host some of the best cultural and music festivals from La Tomatina to the Running of the bulls.
For the young, or 'young at heart', Spain is also renowned for producing and playing centre stage to some of the most celebrated DJs and nightlife in the world. Ibiza and staged events like Mallorca Rocks attract crowds in their thousands each year looking to get a slice of the action.
Accessible Language
The Spanish speak good English but are very accommodating of those attempting to learn the lingo. There are lots of shared or similar sounding words also thanks to the history of the language.
If you move to Spain you'll find various language schools and opportunities to practice your Spanish.
Good Healthcare
The Spanish healthcare system is ranked eighth in the world, according to research conducted in the prestigious UK medical journal, the Lancet. The UK by way of comparison ranks only 30th from a profile of 195 countries.
There are lots of pharmacies and private medical facilities staffed with members who speak very good English. The cost of private healthcare can be as little as 60% of US prices.
Easy to Get Around
Spain is well connected by high speed trains (Alta Velocidad Española) and suburban rail services. The rail network is expansive and connects Spain with the rest of mainland Europe, including France, Germany and Austria.
You can get from the capital, Madrid to the southern coast in less than a four hours. From there you can even hop over to Africa by ferry.
Ready to Move to Spain?
If you're ready to take the plunge and move to Spain you are making an excellent decision. The decision will be one of the best you will ever make.
You will soon have to start planning your move to ensure it runs smoothly and without delay.
Let GoodMove take some of the weight off your shoulders. We've been specialising in European removals for over 35 years and can carry out house moves from our site in Colchester to anywhere across Spain. View our Removals to Spain services here.
We use a modern range of environmentally friendly, purpose-made packing materials and can pack everything for you prior to your move. All china and glassware are wrapped in special paper and then packed in double-thickness cartons.
Furniture can also be wrapped in bubble blanket for extra protection. Items requiring specialist care, such as antiques, can be packed in made-to-measure wooden crates.
Upon arrival at your residence in Spain, our trusted agents will place boxes and furniture in appropriate rooms as directed. They will unpack your belongings onto flat surfaces and dispose of all packing materials. We can also offer you storage should you require it.
What are you waiting for? Simply give us a call or fill out a quick quote form and find out how we can help you move to Spain in 2019.
Are you an expat who has moved to Spain? Let us know your experiences of moving below.